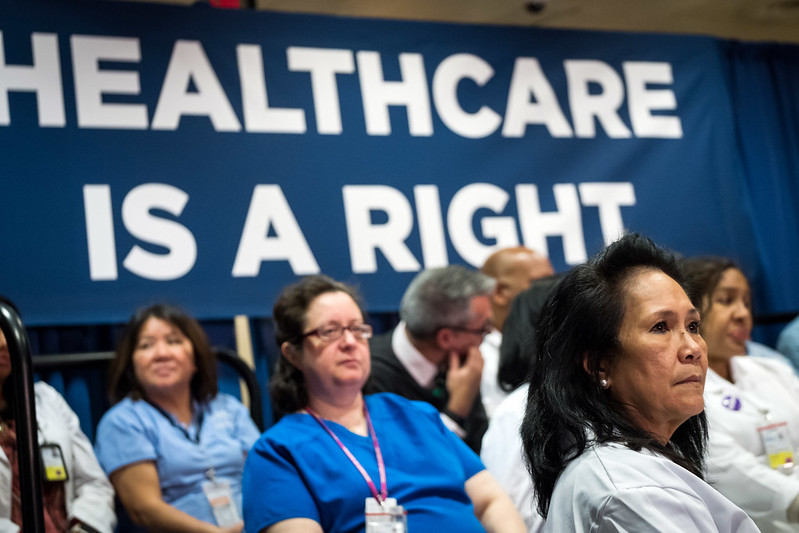 Health care push (photo: Ed Reed/Mayoral Photography Office)
---
The pandemic has been raging throughout New York for nearly a year, killing tens of thousands of our neighbors and dramatically altering every New Yorker's life. None of us have been untouched by this deadly virus.
Throughout this year, the critical need for access to health care has become more clear than ever. So too have the gaping inequities across our state. And, while Governor Cuomo has claimed to make confronting the pandemic his number one priority, he has cut Medicaid and other vital health services. This includes reducing or eliminating certain public health programs, specifically, reducing the reimbursement rate for general public health work to 10% in the fiscal year 2022 budget. In the current year's budget (fiscal 2021), this matching funding for New York City was cut from 36% to 20%, which resulted in a cut of $65 million to vital public programs and services in the city. These services include family health, communicable disease control, chronic disease prevention, community health assessment, emergency preparedness, and environmental health.
Furthermore, there continues to be a Medicaid global cap that imposes automatic cuts when Medicaid spending hits a predetermined threshold. Last year, Medicaid had across-the-board cuts of 1.5%, and this year New York plans to again implement cuts of 1%.
Under Cuomo's leadership, the state has not taken the needed measures to make affordable, high-quality health care coverage available to every New Yorker, regardless of immigration status. It's time the State Legislature takes action to change that.
Lourdes Narvaez is a 24-year-old immigrant from Ecuador. Early in the pandemic, like many other thousands of community members in Jackson Heights, Queens, Lourdes contracted COVID-19. At the time, she did not dare go to a hospital or a clinic to receive medical attention for fear of a more severe contagion. Even if she had wanted to, the hospitals were overcapacity. And, as someone who doesn't qualify for health insurance because of her immigration status, she didn't have a doctor to call to discuss her health or how to treat the coronavirus. She was very afraid of the virus, but she was also afraid of seeking care and later being burdened with medical debt.  
Lourdes is one of 1.1 million New Yorkers who do not have health insurance, and one of 240,000 low-income people with income below 200% of the federal poverty level who specifically lack insurance because of their immigration status. New York can and must take action to ensure that every New Yorker, regardless of immigration status or anything else, has access to health insurance and the coverage we need.
Members of both the New York State Assembly and Senate have gathered for a health-focused hearing and the solutions are clear. 
First, the New York Health Act (NYHA) would ensure comprehensive coverage for every New Yorker. All New Yorkers, regardless of immigration status, would be covered for primary, preventive, and specialty care; hospitalizations; mental health; reproductive health; dental, vision; and more. They would also be able to choose their medical providers, instead of being restricted by insurance companies. The NYHA would pay for all covered services, ensuring individuals can access care without unaffordable copays, deductibles, or premiums.
As we proceed toward passing the New York Health Act, New York should also take immediate action to ensure that immigrants like Lourdes have access to health care. We must in the upcoming budget due by April 1 allocate $13 million to create a temporary state-funded Essential Plan for all New Yorkers with income up to 200% of the federal poverty level, who have had COVID-19, and who are excluded from coverage because of their immigration status. New York should also dedicate a portion of new revenue to make all low-income undocumented New Yorkers eligible for a state-funded Essential Plan.
Unfortunately, instead of exploring the big, bold solutions that we need to meet the scale of this crisis, Governor Cuomo has time and again resorted to budget cuts that tear at the safety net — by cutting Medicaid, withholding payments from municipalities and community-based providers, and more. At this point, the administration has also confirmed that it knowingly withheld information on nursing home deaths, while several health department officials have left.
And in the face of loud calls across the state to tax the wealthiest New Yorkers to prevent cuts to care and instead of focusing on meeting the scale of communities' needs, the governor has spread lies: low-balling the amount that could be raised through progressive taxation, and fear-mongering that billionaires will leave.
It's time to stop trying to protect the rich and powerful, and instead orient New York to meet the needs of low-income and working-class New Yorkers, particularly those of color. Passing the New York Health Act — and, in the interim, creating a state-funded Essential Plan for all New Yorkers earning up to 200% of the federal poverty level — is the best way to demonstrate that commitment.
***
Jessica González-Rojas is the State Assembly Member representing New York's 34th District in Queens. Theo Oshiro is the Deputy Director, and incoming Co-Executive Director, of Make the Road New York. On Twitter: @votejgr & @TheoOshiro.
Article here: https://www.gothamgazette.com/opinion/10221-1-million-uninsured-new-york-health-care-for-all
Do you like this post?
---